Simplify

how you manage insurance certificates.

PINS software allows your business to ditch manually tracking for automation. Achieve 100% vendor compliance, reduce administrative costs and increase productivity. Sounds pretty great, right?
Let's get started
→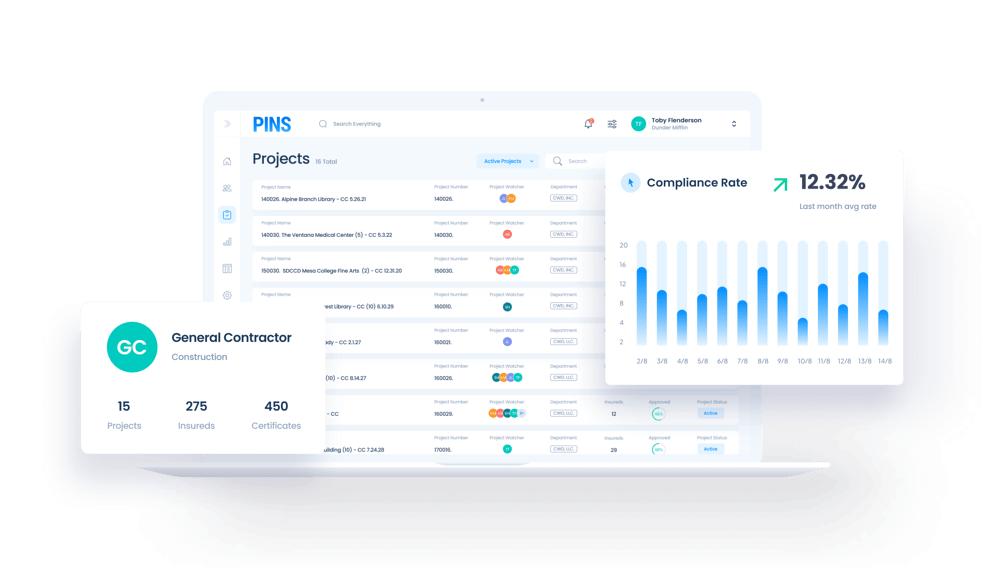 Software that gives you peace of mind
Reduce Risk
Don't let insurance gaps fall through the cracks. Mitigate risk, reduce exposure and increase compliance with automated insurance document requests, tracking and storage.

Save time
Leave manual insurance tracking behind. Replace spreadsheets and errors with an automated system that reduces time spent drafting emails, requesting additional insurance documents and tracking expiration dates.

Reduce Costs
Eliminate the cost of mistakes and time spent tracking manually freeing up employees for other important tasks.

Increase Compliance
Avoid potential project delays, fines, and legal repercussions from coverage gaps. Automatically notify insureds of renewals and easily work with agents on submissions.
"The thing I love most about PINS is everything. It used to take us 2 days to send expired notices, but now I literally press a button and I get all my expired notices done within 5 minutes. Our experience with PINS Customer Service has been outstanding, you can't beat it!"
"PINS has been a godsend. PINS software has improved our organizations risk transfer process in a significant way. Tracking on a spreadsheet was extremely cumbersome, problematic and things were very simply often overlooked. We are very pleased with the PINS Software application and will be continuing to use it as satisfied customer for many years to come."
"PINS has been a game changer for our insurance tracking! PINS has saved CSM Group a tremendous amount of time when it comes to entering data and sending notifications to our trades. PINS customer service team is incredibly responsive and has implemented specialized tools to save us time."
Does PINS have email automation?
Yes! With PINS, you can customize and personalize your automated emails
Does PINS have OCR?
Yes! We use machine learning enabled OCR to make the Certificate flow as quick and easy as possible.
Does PINS check for compliance?
Yes. PINS checks for submission compliance against the requirements.
Does PINS integrate with other applications?
Yes, PINS offers a suite of pre-built integrations with Sage 300 CRE, Vista by Viewpoint and Procore. We also offer a publicly available SPI for you to seamlessly integrate your data.